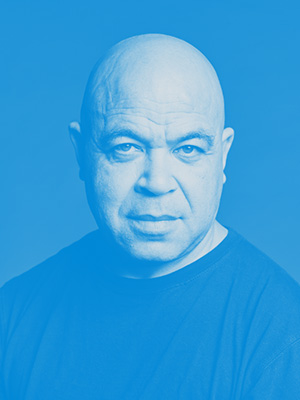 Bernardo Montet
After studying psychomotricity, Bernardo Montet met dance with Sylvie Tarraube-Martigny, Jean Masse, and Jacques Garros (founder of Body Work). This decisive meeting brought him to Brussels, where he studied at the Mudra school of Maurice Béjart.
He then continued his career with Catherine Diverrès. When most of the French choreographers went to the United States, he went with Catherine Diverrès to study the Buto dance in Japan with master Kazuo Ohno; a journey that upset his relationship with the dancing body.
Changed by this experience, he surrounded himself with a community of thought with which he shares a same commitment in the acute experience of self and the world (Téo Hernandez, Pierre Guyotat, Claire Denis, Ko Murobushi).
From 1995 to 2000, he co-directed with Catherine Diverrès the National Choreographic Center of Rennes and Brittany and then became artist associated with Quartz. He founded the company Mawguerite. He created O.More, with gnawa musicians, a pivotal piece, which deeply marked his artistic journey and led him in 2003 to be the director of the National Choreographic Center of Tours, which he invented as a sensitive and poetic shared space.
All his pieces are carried by demand and radicality, dealing with subjects that are dear to him: colonialism, memory, identity, body consciousness, resistance. Each choreography emerges from the previous one to create an image that is both similar and different: bodies, in their poetic and political dimension, replay the world around us.
In 2012, he took over the artistic direction of Compagnie Mawguerite, which he set up in Morlaix and became artist associated with the SE/cW project - an arts and research platform combining the cinema La Salamandre, the theater company l'Entresort (Madeleine Louarn), and the electronic music association Wart.